What is Bureau of Energy Efficiency (BEE) ?

The Bureau of Energy Efficiency is an agency of the Government of India, whose mission is to develop policies and strategies to increase the conservation and efficient use of energy in India.
Bureau of Energy Efficiency was set up by the Government of India on 1st March 2002 under the provision of the Energy Conservation Act, 2001.
There are many programs and projects initiated by the agency for the efficient use of energy in India. However, the most popular and widespread among these is the Energy Rating program.
What is BEE Star label Rating?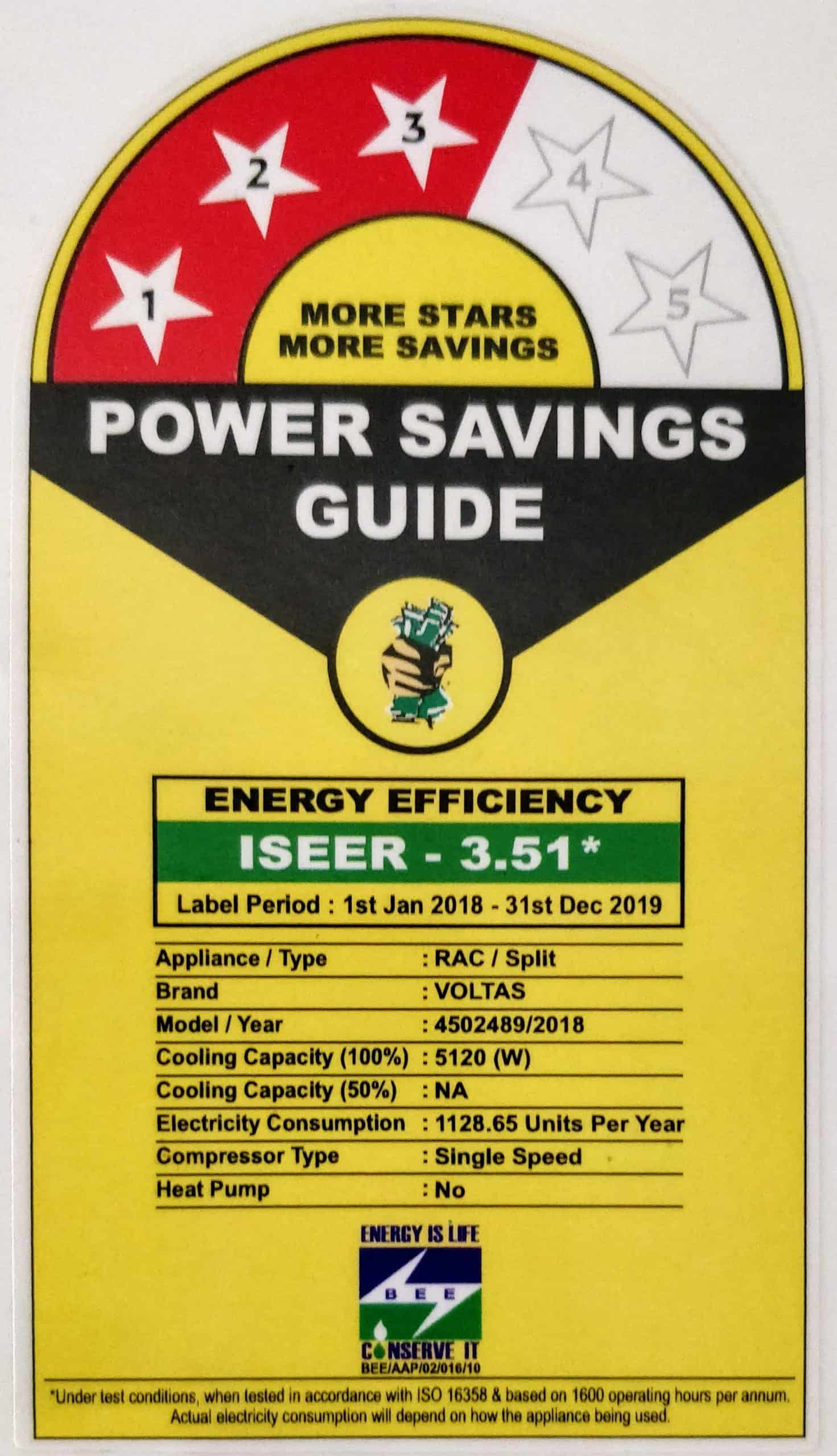 The BEE star rating is a measure of energy efficiency of an appliance, it is a five points scale where higher the rating lower is the energy consumption and hence better savings. These star ratings are given out of 5 and they provide a basic sense of how energy efficient each product is, just in a single glance.
The BEE Star Rating scheme was launched by the Hon'ble Minister of Power in May 2006 and is currently applicable for appliances like Room Air Conditioner ( Inverter AC, Split AC, Windows AC), Ceiling Fan, Colour Television, Computer, Direct Cool Refrigerator, Distribution Transformer, Diesel Engine Driven Mono set pumps For Agricultural Purposes, Frost Free Refrigerator, General Purpose Industrial Motor, Monoset Pump, Openwell Submersible Pump Set, Stationary Type Water Heater, Submersible Pump Set, Tfl, Room Air Conditioner (Variable Speed), Chillers, Washing Machine, Ballast, Solid State Inverter, Printer,Diesel Generator Set, Led Lamps, Domestic Gas Stove, Office Automation Products, Agricultural Pumpset etc.
Who has the authority to give BEE Star Rating labels?
Technically, the manufacturers of the appliances put these labels on their appliances. Or rather, It would be best to say that the manufacturers are officially required to put these labels as per the Standards and Labelling Program introduced in 2006.
Why is it important to put these BEE Star Rating labels?
The prime focus here is to educate and make conscious awareness within consumers about how energy efficient each product is. At the same time, this also motivates the manufacturer to create products that are highly energy efficient as consumers may turn to their competitors for better-rated products.
Few more things…
If you are looking at a 1-ton air-conditioner and it has a 5-star rating, it means that this AC is the most energy-efficient among all the other 1-ton AC. So, if you compare a 1.5-ton air-conditioner with a 1-ton variant based on star ratings, this comparison shall be inaccurate with regards to energy efficiency.
Also not to forget that any program is not meant to be the same for years eventually there will continuous efforts making the program better. Likewise, BEE also continues to improve its star rating program every passing year. Therefore, an AC manufactured in 2015 might be highly energy-efficient and must have received a 5 Star Rating. But, the same AC might be less energy efficient compared to AC's in 2017 owing to improved efficiency technologies
Bureau of Energy Efficiency PDF
Awareness Videos by Bureau of Energy Efficiency
References
For information here are links to some well-written articles about the Bureau of Energy Efficiency (BEE)
The Bureau of Energy Efficiency (BEE) has made it simpler, giving you all the details on cooling capacity, power consumption, seasonal energy consumption, and star ratings of the AC model you are looking for. If you know the AC model, you can search and compare from a list of air conditioners, click here.
Important links